"Oil paintings of southern Louisiana bayous. See our environment through new eyes and appreciate its beauty and importance"
SHOWING: "White Light Night" at Elizabethan Gallery in Baton Rouge"
Friday evening 6 – 9 pm November 17th. 
Featured new work by Carol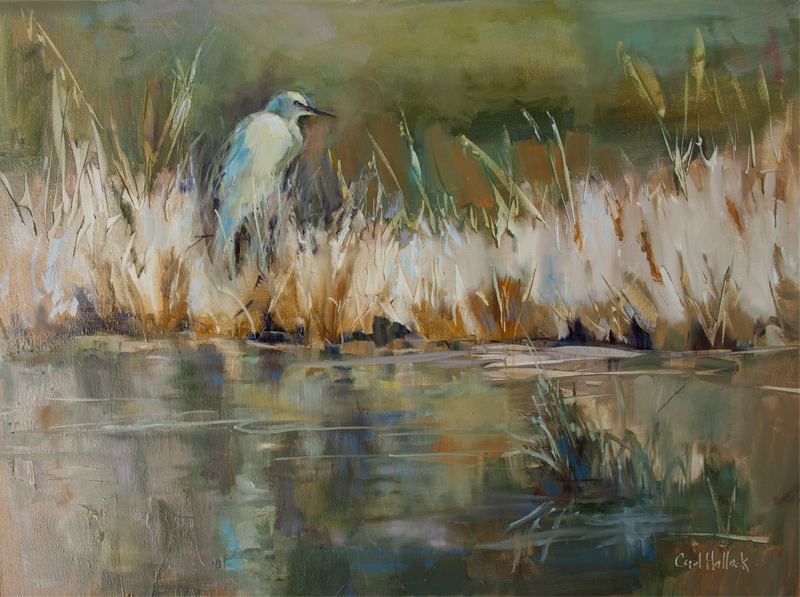 Geraldine
My favorite bird, the egret. How did she get her name? My Mom named her and now anytime we see an egret, we say, "There goes Geraldine". It doesn't matter if it is one or 100 hundred. They are all "Geraldine" and she is well loved. From time to time Geraldine will allow the pelicans to share her space.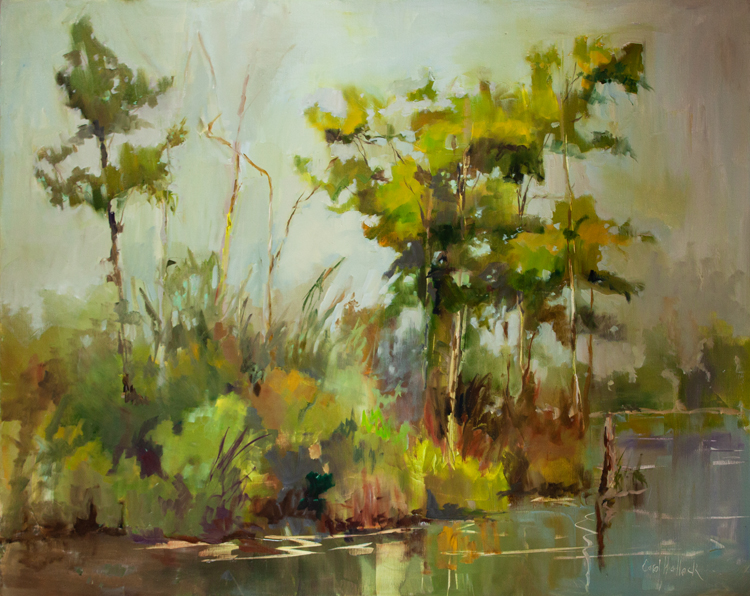 Marsh
Water is so soothing. The scene is quiet but there is so much life above and below. I go out often to the marsh and "soak" it in.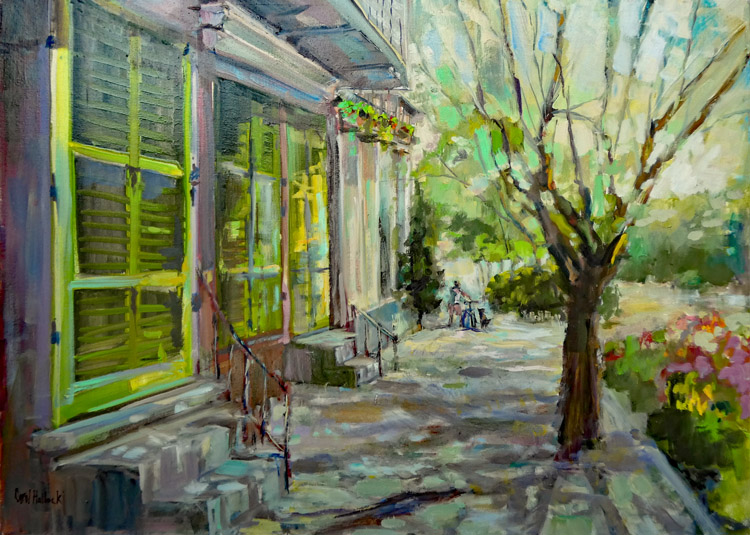 NOLA Street Scenes
I love to people watch. One's posture and interaction with the environment always tells a story. What better place than the Quarter? Shotgun Houses are also a favorite subject. Shotgun houses are named for being able to shoot a shotgun shell through the house from the front door to the back without hitting anything along the way.  This is because there are no hallways but a progression of rooms.  Shotgun homes are generally long and narrow on narrow lots and typical of a charming New Orleans style home.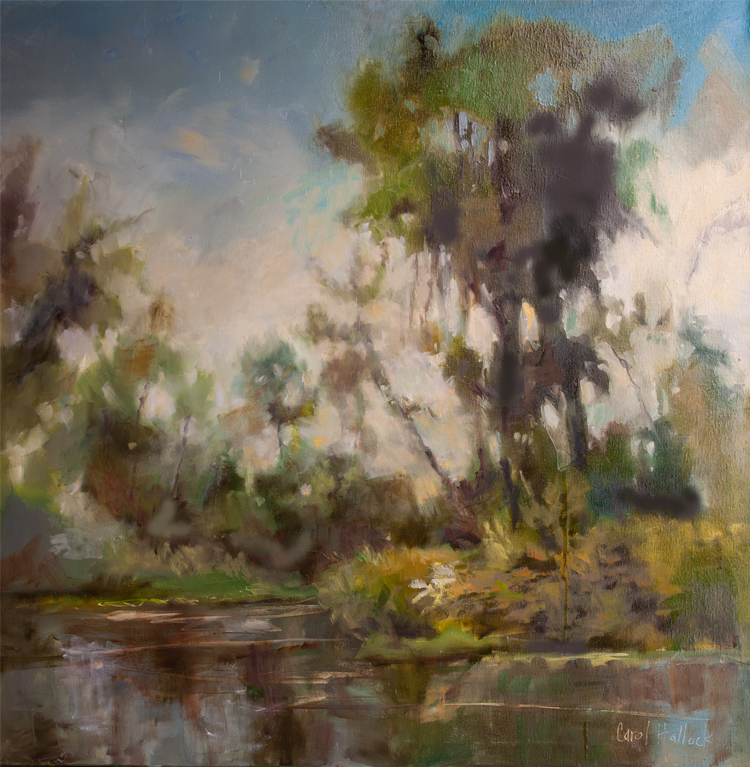 Large & Narrow
Large paintings can make quite a statement while narrow paintings fit on walls between windows or above doorways.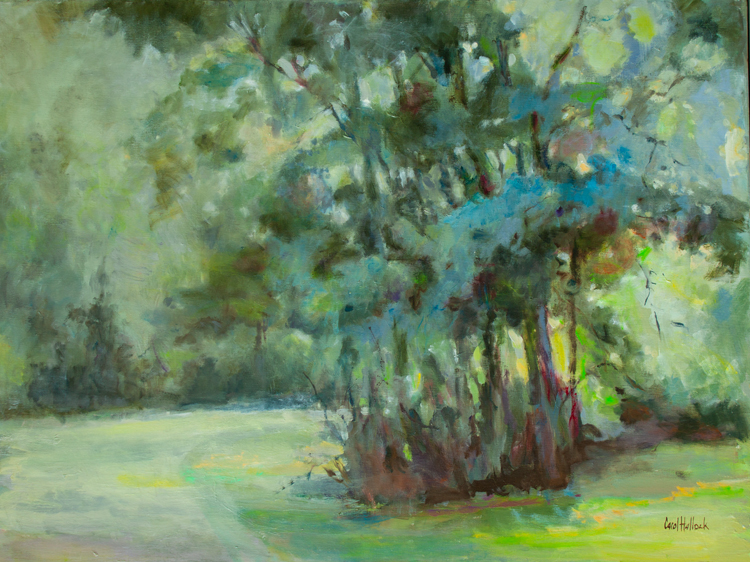 Landscapes
Living on the bayou gives me great inspiration. I love to inspire others to see the bayou through "new eyes" and gain a new appreciation of it's beauty.
Water therapy- the movement of water is so soothing. I love to paint it while kayaking.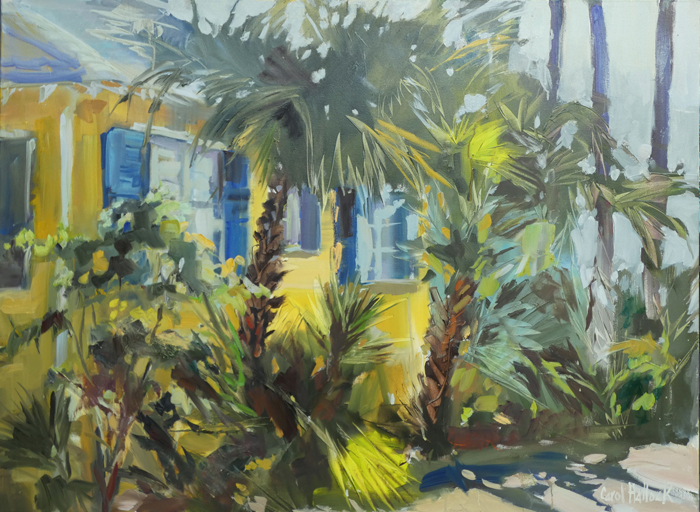 NOLA Tropics
Banana leaves are exotic. The tropical foliage reminds me of warmth, vacations, and good times.
About the Artist
Born and raised in Baton Rouge and graduate of Louisiana State University, Carol loves the unique beauty of her homeland. Widely acclaimed for her loose, painterly strokes in oils, Carol's work can be found in the Louisiana Governor's Mansion as well as private and corporate collections across the country.  Read More Here